Campfire
Jump to navigation
Jump to search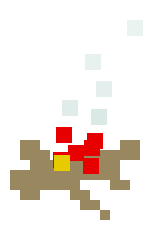 Character

∙

ID?

Campfire

Light Radius?

3

Spawns in

---

Extra info:

Can be walked on/through
Bursts into flames at 10000T
Weighs 30 lbs

Infobox data from game version

2.0.202.96
A brightly burning campfire.
Campfires (and

clay ovens) provide the means of the cooking system in Caves of Qud. While a single campfire generally does not create enough heat to spread fires to adjacent creatures or objects, objects placed on top of the campfire will heat up and burn. Metal items piled on top of the campfire can collectively heat up enough to set adjacent objects on fire.
Campfires also act as a weak light source, spreading light in a radius of 3 tiles, which is slightly dimmer than a

torch.