Cybernetics
Jump to navigation
Jump to search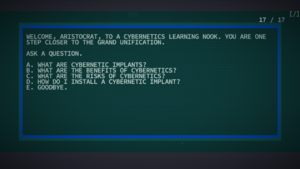 Cybernetics are one aspect of character creation in Caves of Qud. They provide the bulk of character customization for players playing as True Kin, and are roughly analogous to the Mutations available to Mutants.
Cybernetics differ from mutations in that they are not obtained through leveling up and spending points; instead, they are found throughout the world in various locations, and installed into the player's body. They are unable to be leveled as mutations are.
Cybernetics are listed by their short display name below and elsewhere on the wiki. In game, they appear with the prefix [Implant] - <cybernetic name>.
In contrast to mutations, very few enemies possess cybernetic implants, a notable exception being the Putus Templar.
Character Creation
The player is permitted to select one cybernetic during character creation. Only a small portion of the cybernetics present in the game are available for selection when creating a character. Additionally, certain cybernetics are only available when playing as castes belonging to specific arcologies. The player can also choose not to take any cybernetic, which will grant them +1 Toughness, at the cost of starting with 0 license tier (instead of 2).
General Starting Cybernetics
Arcology-Specific Starting Cybernetics
Cybernetic
Slots
Arcology
Castes

a

i

r

c

u

r

r

e

n

t

m

i

c

r

o

s

e

n

s

o

r

Body
Head
The Crustal Mortars
of Yawningmoon
Child of the Deep
Child of the Wheel
Child of the Hearth
Fuming God-Child

c

h

e

r

u

b

i

c

v

i

s

a

g

e

Face
The Ice-Sheathed
Arcology of Ibul
Artifex
Consul
Praetorian
Eunuch

n

o

c

t

u

r

n

a

l

a

p

e

x

Head
The Toxic Arboreta of
Ekuemekiyye, the Holy City
Priest of All Suns
Priest of All Moons
Syzygyrior
Horticulturist
Obtaining Cybernetics
Cybernetics are not obtained through leveling up as mutations are. Instead, they are found in the game world and installed into the player's body at

becoming nooks.
Installing a cybernetic requires the cybernetic itself, an unoccupied body part slot that varies depending on the implant, and the appropriate license tier. One's license tier can be upgraded at a becoming nook by spending

cybernetics credit wedges, or by wearing certain equipment.
Just as cybernetics can be installed, they can also be uninstalled using a becoming nook, which will refund the license points used by that implant. Some cybernetics will be returned to the inventory when uninstalled; others, however, will be destroyed if removed.
License Tier
Each cybernetic requires a certain number of "license points". The total number of license points required by all of your installed cybernetics cannot exceed your "license tier". By default, all True Kin begin with a license tier of 2, unless they choose not to start the game with a cybernetic implant (in that case, they start with a license tier of 0, but gain a +1 bonus to Toughness).
Increasing one's license tier requires an amount of credit wedges dependent on your existing license tier. These increases are permanent once purchased at a

becoming nook.
| License Tier | Credits Required |
| --- | --- |
| 1-8 | 1 Credit per license tier point |
| 9-16 | 2 Credits per license tier point |
| 17-24 | 3 Credits per license tier point |
| 25+ | 4 Credits per license tier point |
Additionally, one's license tier can be increased through other means, such as by equipping the

Kesil Face.
Finding Cybernetics & Wedges
Cybernetics are fairly uncommon in Qud, mainly being located in

cybernetics racks found next to becoming nooks. Becoming nooks themselves are sometimes found in Ruins, among other locations.
Credit wedges are also fairly rare, being found randomly as loot in chests, and are sometimes sold by merchants.
Full List of Cybernetics
Toggle columns: Destroyed when Removed - Starting Arcologies - CyberneticID - Weight