Shale wall with emerald deposits
Jump to navigation
Jump to search
shale wall with emerald deposits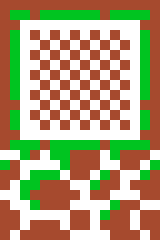 Character

▒

ID?

EmeraldWall

Tier

0

Corpse Dropped

Spawns in

---

Infobox data from game version

2.0.203.45
shale wall with emerald deposits
A wall of crumbling shale with emerald deposits.
A rare type of wall that has a chance to drop

rough emerald gemstones when destroyed.
Mining Mechanics
Many zones have a primary wall type that is used to build all of the walls in the zone. So if you are lucky enough to find a zone built from shale walls with emerald deposits, you are likely to find a large number of these walls in that zone. Rough gemstones can be obtained in bulk by mining (destroying) the walls; each piece of wall has a 4% chance to drop a gemstone when it is destroyed. It takes time to mine a large number of walls, but

Burrowing Claws, a

pickaxe, or a

nanopneumatic jackhammer can speed up the process. Consider using the auto-attack keybind (Ctrl+A by default) to mine each wall segment until destroyed.