Forcefield
Jump to navigation
Jump to search
Character

░

ID?

Forcefield

Tier

6

Spawns in

---

Infobox data from game version

2.0.204.52
Potential is polarized into a cyanic hex mesh and keyed to its arranger. Objects of sufficient mass are blocked, but small ones fired leeward can pass through.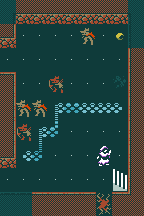 A forcefield is a type of wall which can be temporarily created by a variety of sources, including the Force Wall and Force Bubble mutations,

force bracelets, and

Stopsvalinn. They are destroyed by normality.
Creatures (and True Kin players) with a

force modulator implant installed have the ability to walk through forcefields.
Force fields (including mobile ones around enemies) count as walls for the purposes of destruction via

Burrowing Claws, though actually penetrating the forcefield's AV requires a critical hit or vibro weapon.
See also