Forcefield
Jump to navigation
Jump to search
Character

░

ID?

Forcefield

Tier

6

Spawns in

---

Infobox data from game version

2.0.204.52
Potential is polarized into a cyanic hex mesh and keyed to its arranger. Objects of sufficient mass are blocked, but small ones fired leeward can pass through.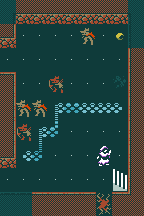 A forcefield is a type of wall which can be temporarily created by a variety of sources, including the Force Wall and Force Bubble mutations,

force bracelets, and

Stopsvalinn. They are destroyed by normality.
Creatures (and True Kin players) with a

force modulator implant installed have the ability to walk through forcefields.
See also