Tam
Jump to navigation
Jump to search

Attacker Level 1-19

375 XP

Attacker Level 20-24

187 XP

Attacker Level 25-29

37 XP

Character

d

ID

?Use this ID to Wish for Tam, dromad merchant

Doru

Faction

dromad merchants (Loved100 Reputation)
villagers of Joppa (Liked99 Reputation)

Demeanor

neutral

Gender

Inventory

Inventory

Mutations

Mutations

Corpse Dropped

dromad corpse (100%)

Experience

?The XP granted when killed. Click
"toggle detailed stats" above for
a level-based breakdown.

375 XP

XP Tier

3

Role

Unspecified

---

Extra info:

This creature is unique
Weighs 200 lbs

---

Limbs* (Humanoid):

* Excludes limbs granted via mutations

Infobox data from game version

2.0.201.114
A stoic, long-necked mancamel, this trader belongs to the race of mercantile desert-rovers who men call Dromad.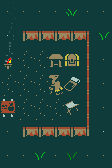 Tam, dromad merchant is a unique dromad trader found in his tent in the southeast corner of

Joppa (if the player chooses to start in Joppa, that is). He sells a wide variety of low-tier goods which may be useful in the early game, such as food, ammunition, armor, weapons, and water containers.
Conversations
Subpage: Tam/Conversations
Wares
Tam is a restocking merchant who sells the same kind of items as a typical Tier 1 dromad merchant.