Greater voider
Jump to navigation
Jump to search

Attacker Level 1-29

675 XP

Attacker Level 30-34

337 XP

Attacker Level 35-39

67 XP

Character

X

ID

?Use this ID to Wish for greater voider

Greater Voider

Faction

arachnids (Loved100 Reputation)

Demeanor

neutral

Gender

Inventory

Inventory

Skills

Skills

Mutations

Mutations

Corpse Dropped

greater voider corpse (15%)

Experience

?The XP granted when killed. Click
"toggle detailed stats" above for
a level-based breakdown.

675 XP

XP Tier

5

Role

Brute

---

Extra info:

---

Limbs* (Spider):

* Excludes limbs granted via mutations

Infobox data from game version

2.0.202.92
Evolutionary pressures have reshaped the anatomy of the voider: fangs have descended from its basal segment, the arciform chambers of its shunting gland have fractalized, and its frame has grown an order of magnitude to match the predatory potency of its other advantages.
The greater voider is a creature belonging to the arachnids faction. Greater voiders can be found underground in tier 6 zones.[1]
Unlike

voiders, greater voiders are aggressive and will pursue their targets instead of fleeing. They attack in melee with their \bite, a natural short blade weapon that deals

4d34-12 (Avg: 8) damage.[2] Upon hitting with their bite, greater voiders will teleport both their target and themselves to their lair, regardless of whether or not the attack successfully penetrated. This cannot occur if there is no lair within the current zone, or if the target is already within the lair.[3][4]
While idle, greater voiders will occasionally spin

webs with their Spider Webs mutation, which they possess at level 8.[2] This mutation grants a greater voider the "Spin Webs" activated ability, which allows it to create webs in tiles it moves into. Each use of Spin Webs will allow a greater voider to create 4 webs. Spider Webs also makes greater voiders immune to becoming stuck, whether it be in webs or in any other sticky substance, such as

asphalt.[5]
Upon death, greater voiders have a 15% chance to drop a

greater voider corpse. This corpse can be butchered to produce one

voider gland.[2]
Greater Voider Lair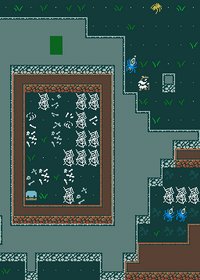 When a greater voider is spawned, their "lair" is also generated somewhere in the same zone. This lair is distinct from the lairs of legendary creatures, and is a simple rectangular room with walls made of

shale and no exits.

bones and

webs will be scattered throughout. If there are multiple greater voiders in the same zone, they each will usually have their own lair; however, sometimes multiple voiders will share a single lair.
Each lair has a 10% chance to spawn with a greater voider's previous victim, which will be a random humanoid corpse.[4] On this corpse will be the following items:
a random melee weapon (95% chance)
0-2 random armor pieces (95% chance)
0-4 assorted items
The tier of these items will depend on the tier of the zone the lair was spawned in.[1]
References
| | |
| --- | --- |
| | This information is reliable as of patch 2.0.201.73. |
This information is reliable as of patch
2.0.201.73
.